Tournaments is a special PVP Mode where all players that have reached the Golden League in Raids Mode at least once can participate. Participants can get various Coaches as a reward.
Tournaments are held weekly, and each of them has different bonuses and limitations. Detailed information is available in the Tournament menu.
To enter the tournament, tap Raids => Tournament.
In order to confirm the participation in the tournament a player must fill in their Defending Team during the Preparation stage. A player is not considered as a tournament participant until their Defending Team is not confirmed.
Tournaments have additional rules and limitations that can be checked in this tab: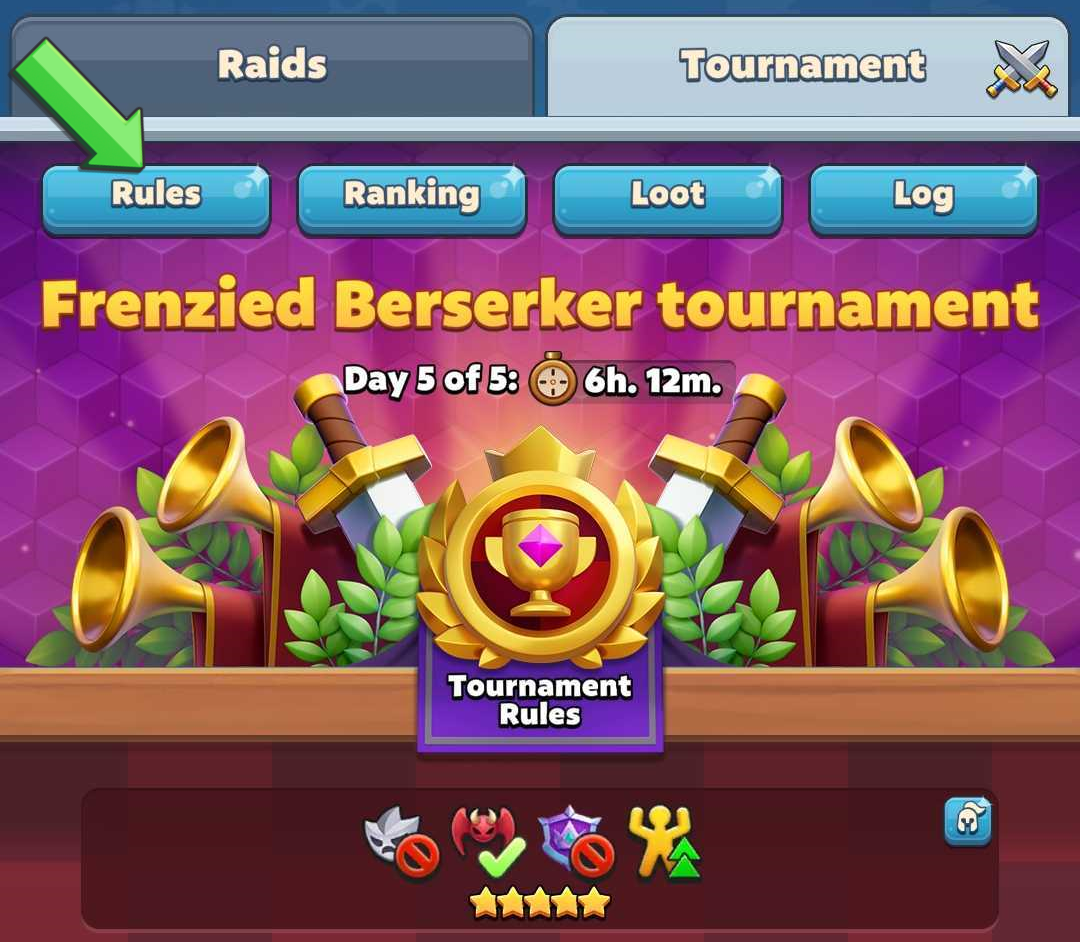 General Rules
While being used in the tournament Heroes' parameters are adjusted to the certain level that is stated in the rules. For example, a particular tournament has a limitation to the maximum star ranking — 5.
If you pick a 6-star Hero of level 1, they will be adjusted to 5-star Hero of level 1 for the tournament.
If you pick an 8-star hero of level 160, they will be adjusted to 5-star Hero of level 100 for the tournament (level 100 is a maximum level for any 5-star Hero).
If you pick a 5-star Hero of level 80, their parameters will remain unchanged.
NOTE! If you pick Heroes with a star ranking of 1 to 4, their parameters will NOT be adjusted to 5 stars as they are below the maximum allowed star ranking.
Bonuses provided by equipment items, talismans and War Academy are not applied in the tournament. Bonuses from the Skill Tree apply only up to the maximum star ranking allowed in the tournament.
All tournament participants are randomly sorted into groups, up to 100 players in each.
For each attack an opponent is selected randomly and cannot be changed.
One unique opponent can be attacked only once during the whole tournament.
To attack an opponent 1 unit of Tournament Energy is required. All players receive 5 units of Tournament Energy every day while the tournament is being held.
For the duration of the tournament each player will have 4 Lives. In case of a successful attack the number of Lives remain unchanged, in case a player was defeated during their attack they lose 1 Life. Lives are not replenished during the tournament, but they can be purchased with Gems.
Final rankings are applied based on the number of the tournament points that the participants were able to earn. These points are rewarded for attacking other players and for efficiency of the Defending Team.
Attack points:
Victory — 100 points
Defeat — 20 points
Every enemy Hero killed — 10 points
Remaining attacking team health — from 0 to 20 points
Defense points:
Efficiency of the Defending Team is measured in percentage of successfully repelled attacks during the whole tournament. A general rating (also for the whole tournament, NOT a single day) is applied to the Defending Team based on the efficiency. Depending on the rating players get a certain number of points at the end of each tournament day:
0-9%: F — 50 points
10-24%: E — 100 points
25-49%: D — 150 points
50-74%: C — 200 points
75-89%: B — 250 points
90-100%: A — 300 points
NOTE! If your Defending Team was not attacked by anyone, rating C is applied by default.
Every tournament consists of three stages.
Tournament stages
Preparation (1 day)
Players choose their Defending Team and apply for participation in the tournament by confirming their choice.
Active (5 days)
Players earn tournament points by attacking their opponents and repelling attacks with their Defending Teams.
Final (1 day)
Tournament is concluded and players receive various rewards according to the place they managed to climb.
Tournament menu then shows the rules for the next tournament.