To make battles more engaging and even tactical there are special Battle Items available in the game. Using those can help deal additional damage, restore health or mana, and cast buffs on Heroes.
NOTE! Currently Battle Items are applicable only in battles against Giants.
There are three qualities of Battle Items available: Common, Rare and Elite.
A player can take 4 unique types of Battle Items into a fight. The maximum amount of Battle Items to take depends on the item quality; for example, if this is an Elite item, the player will be able to take only 1 into battle.
To take a Battle Item tap one of corresponding slots under your Heroes before going into battle.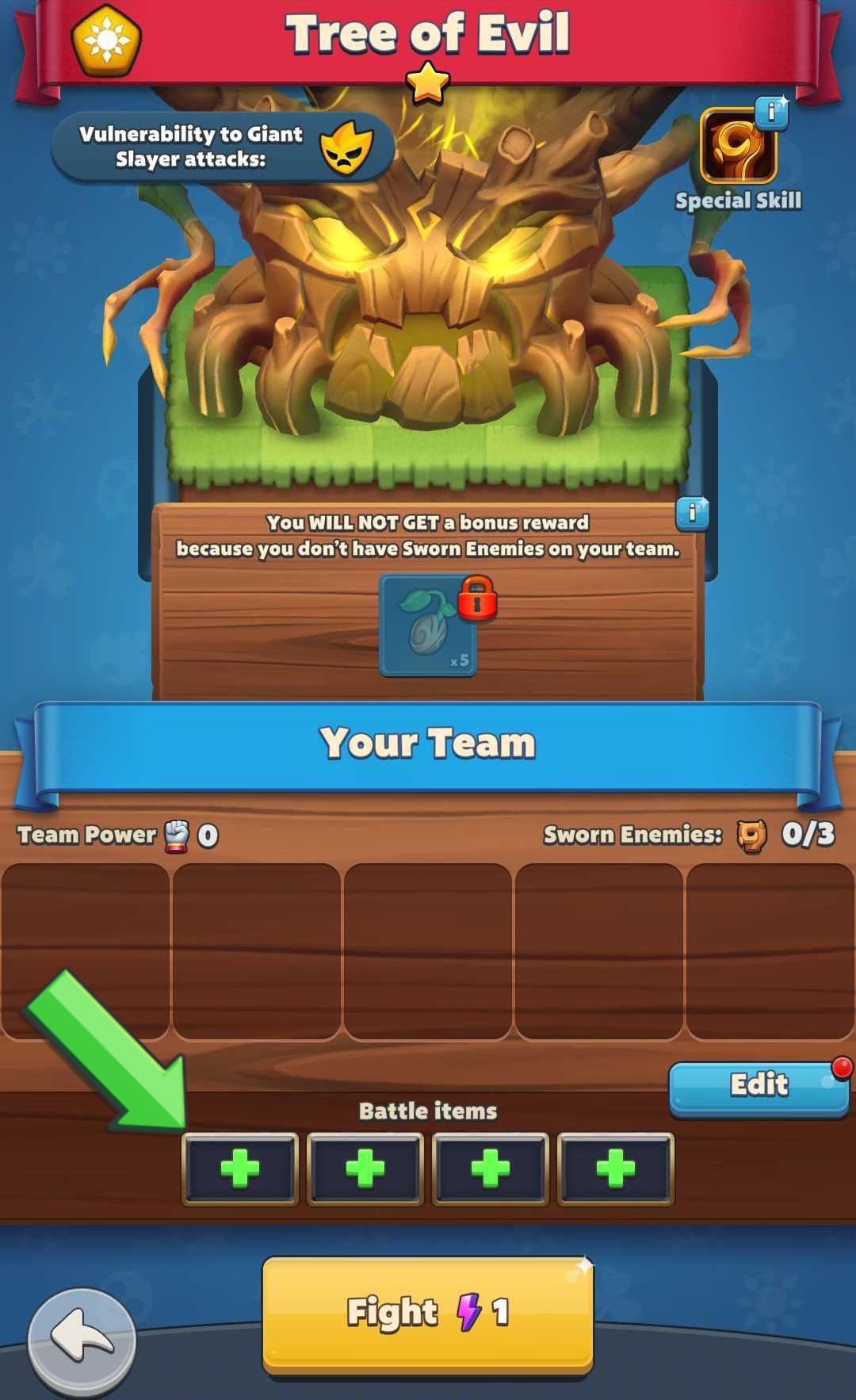 Battle Items can be obtained in several ways:
as a reward in Contests
purchase in the Adventure Shop
receive during sales and special offers
Battle Items list
Type of Item
Description
Quality
Maximum amount

Cannon Fire

Deals 10 000 damage to everything on the battlefield



Stuns a giant for 1 turn



Allows obtaining Giant Souls

Elite

3

Cannonball

Deals 1000 damage to a giant



Stuns a giant for 1 turn



Allows obtaining Giant Souls

Rare

3

Blade of Oblivion

Deals 40 000 damage to a giant

Elite

3

Eye if the Storm

Refills Heroes' mana



Shuffles runes on the battlefield

Elite

1

Cursed chains

Burns 100% of a giant's mana

Increases the turn meter of a giant by 2

Blocks Giant from receiving any mana for 3 turns

Elite

1

Weak Healing Potion

Restores 5% of player's health
Common
10

Healing Potion

Restores 15% of player's health
Rare
10

Weak Mana Potion

Restores 10% of mana to all heroes
Common
4

Mana Potion

Restores 25% of mana to all heroes
Rare
4

Small Attack Banner

Increases Attack stat of all allies by 10% for 3 turns
Common
5

Attack Banner

Increases Attack stat of all allies by 20% for 3 turns
Rare
5