Any ruler can tell you that there is always room for improvement, even for the most powerful Hero teams. And the latest update will prove just that: we've prepared new game mechanics that both seasoned veterans and fresh newcomers will find most exciting.
The maximum Hero level has been increased to 330, a new section called Hero's Disenchantment is now available in the Hero Academy, and 10* Trainers are now available for acquisition. So, let's dive into the details!
Increasing Hero star ranking to 15

Is there a limit to perfecting a team of almighty Heroes? Everyone can now decide for themselves, as the maximum star ranking of a Hero has been increased to 15.
The upgrading process is similar to that for star rankings 5 to 10, requiring a certain amount of other Heroes and Power Stones.
To upgrade a Hero past 10 stars, tap on the star icon at the top right corner of the corresponding screen or tap the Develop button that unlocks as soon as the Hero reaches level 250.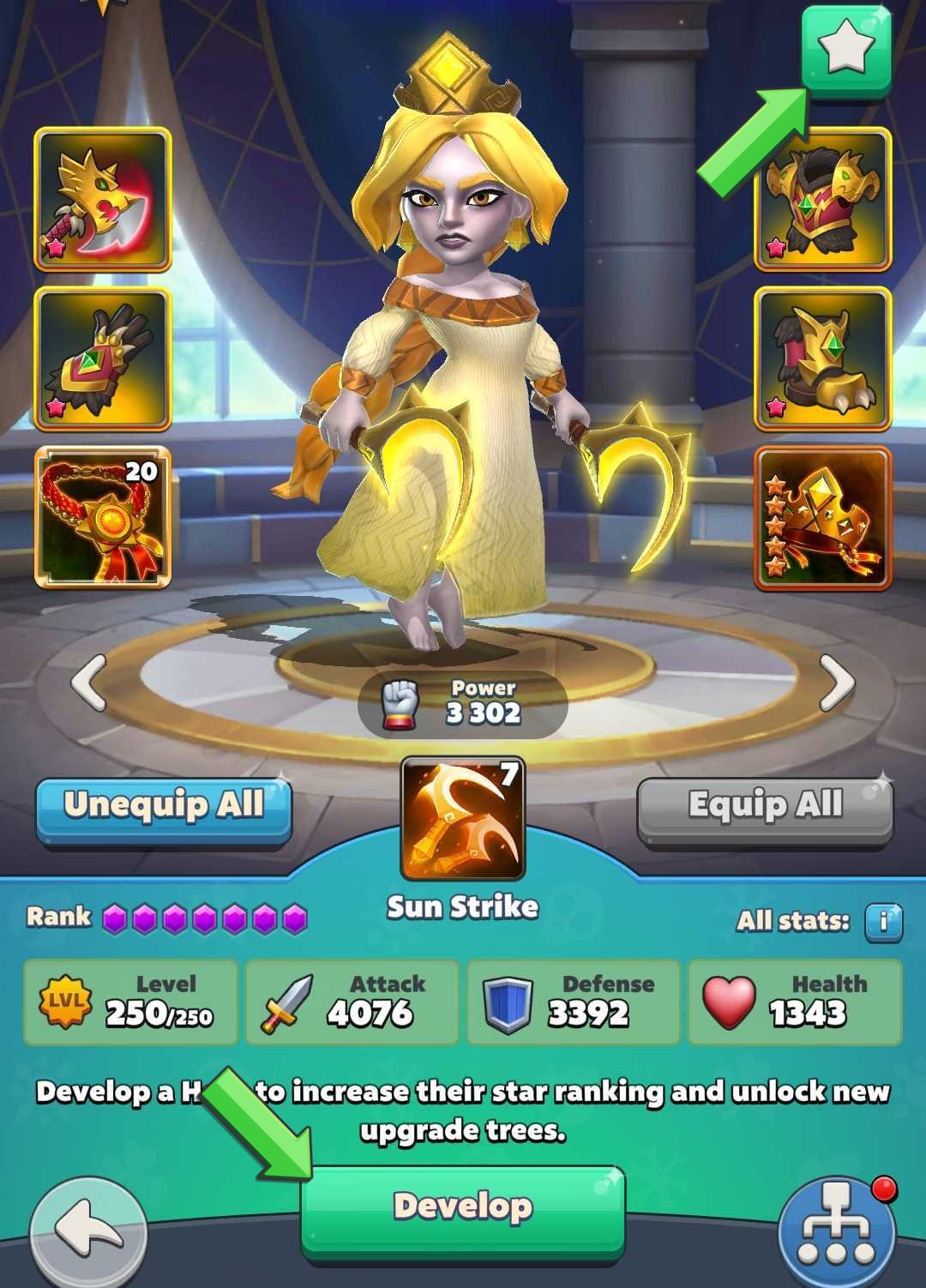 Next, select the Heroes you would like to use for upgrading and confirm your choice by tapping the Develop button.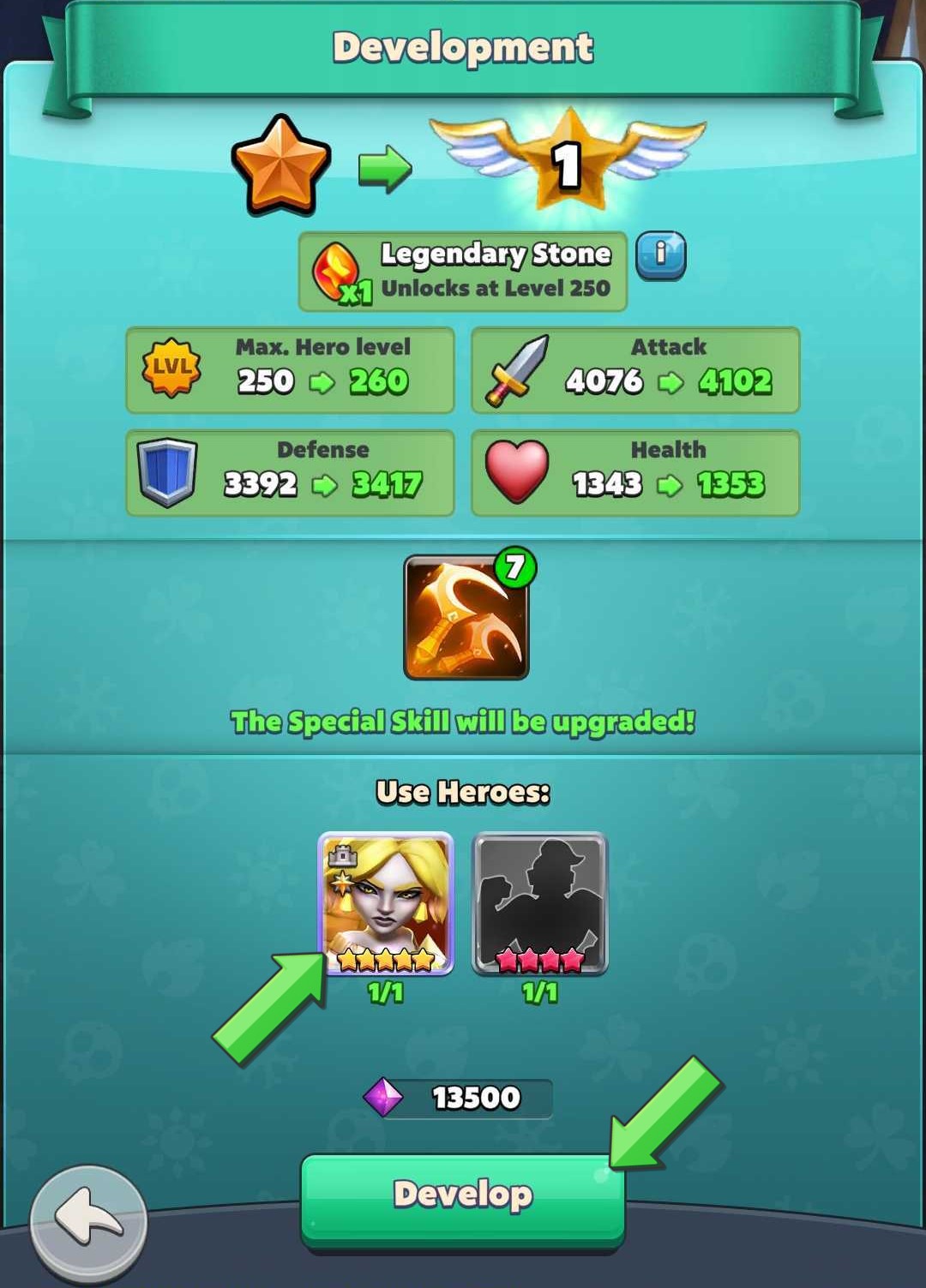 Here is the correlation between a Hero's star ranking and maximum level:
| | |
| --- | --- |
| Star Ranking | Level |
| 11* | 260 |
| 12* | 270 |
| 13* | 290 |
| 14* | 310 |
| 15* | 330 |
Legendary Stones
Heroes that were upgraded above 10 stars can be further enhanced using Legendary Stones.

Each star ranking starting from 11 unlocks one Legendary Stone for creation.
To create a Legendary Stone, tap the icon of the Stone at the top-right of the Hero screen.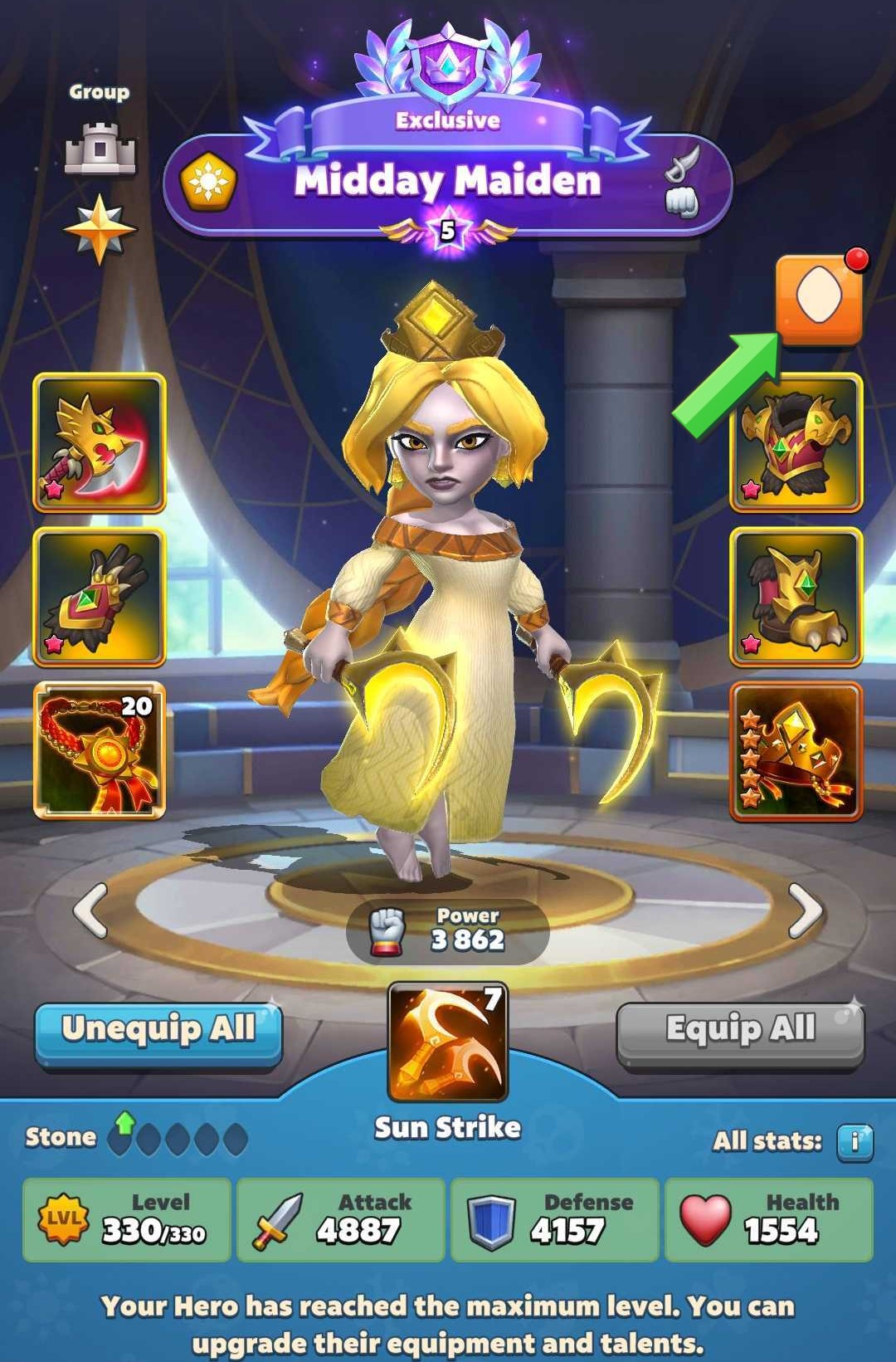 New resources are now available associated with the Legendary Stones:
| | |
| --- | --- |
| Lesser Ancient Shard | |
| Ancient Shard | |
| Greater Ancient Shard | |
| Prismatic Pyramid | |
| Prismatic Cube | |
| Prismatic Crystal | |
These resources can be obtained in the following ways:
Tournament shop
Battle for Supremacy shop
Certain in-game activities, for example, the upcoming annual sale.В магазине турниров
Apart from increasing Attack and Defense, Legendary Stones also add special stats.
Hero Disenchantment
The journey to 15 stars requires a solid amount of effort, so a new function has been added to make the process a little bit easier: Hero Disenchantment, where you can use already upgraded Heroes to boost the power of your main team.
Disenchantment is performed via the new tab in the Hero Academy.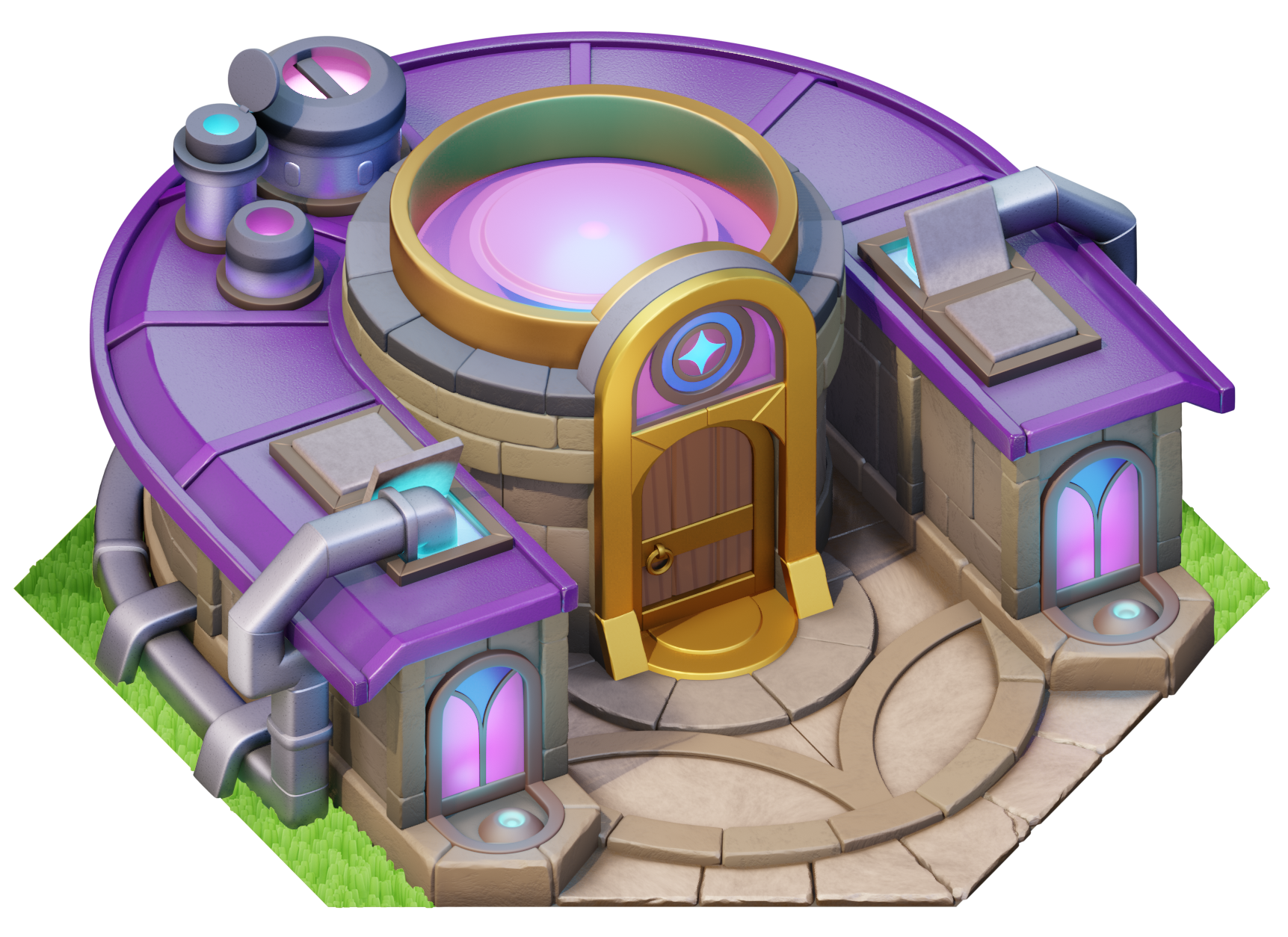 Here, you can select a Hero and see how many resources will be returned to your inventory after the disenchanting process completes.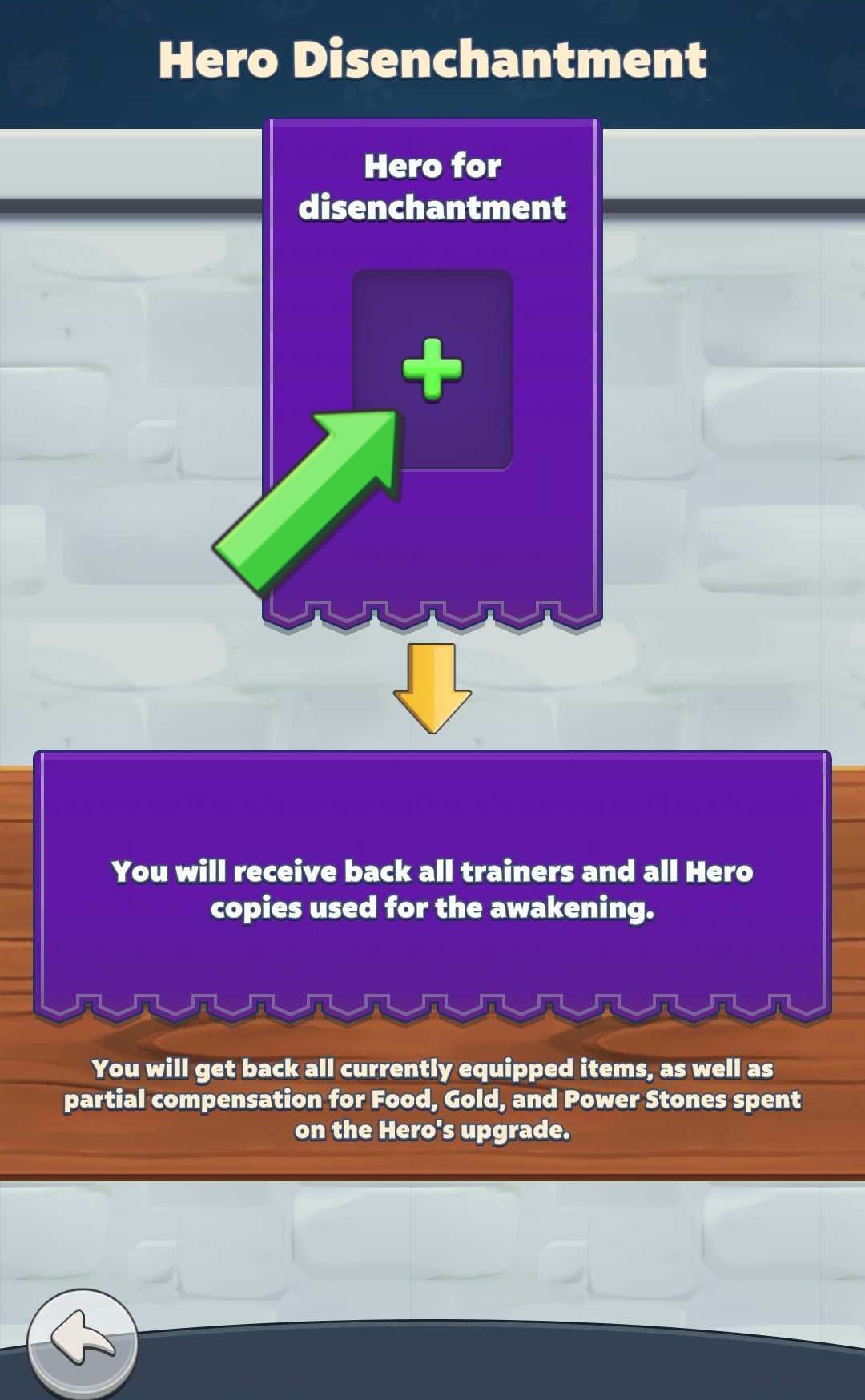 Disenchanting can be applied to Heroes with 6, 7, 8, 9, or 10 stars.
List of resources to be returned to the inventory:
Герой
Type and number of returned resources
6*

Two 5-star Hero copies

Two 5-star Trainers

7*

Two 5-star Hero copies

Three 5-star Trainers

8*

Two 5-star Hero copies

Four 5-star Trainers

9*

Three 5-star Hero copies

Five 5-star Trainers

One 6-star Trainer

10*

Five 5-star Hero copies

Six 5-star Trainers

Two 6-star Trainers

One 9-star Trainer
A new resource, Dragon Scale, will be required to successfully complete a disenchanting process. It can be collected as an achievements reward for upgrading Heroes to 11 stars and higher, as well as in the upcoming annual sale.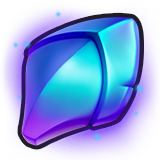 Additional information about the disenchantment
Things to be returned to your inventory:
Hero equipment and artifact
Part of the resources invested in leveling up the Hero, like Gold, Food, and Power Stones
Things NOT to be returned to your inventory:
Talisman
Resources spent on upgrading the talisman
Resources spent on upgrading talents, passive skills, and mastery

You can now check more detailed Hero stats like:
Attack
Defense
Health
Level
Following special effects:
- Special Skill damage increase
- Absorption value
- Starting mana, etc.
Open a Hero screen and tap the "i" button in the right bottom corner to see a summary of detailed Hero stats.