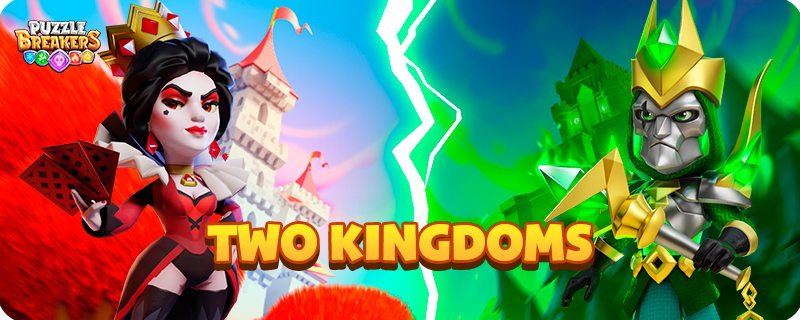 The Kingdoms of Puzzle Breakers have always engaged in an unofficial competition to determine which of their champions is the most effective and powerful on any battlefield.
The Kingdoms of Tauveron and Ordan are proud to present their new champions, but the choice of who deserves a place in your Hero army is yours. Perhaps you will recruit them both?
The competition begins on November 10 and will last for 12 days. All players who have completed the New Player event are eligible to participate.
A special Two Kingdoms meadow has appeared in the center of your Kingdom. Here, you can access the main event menu and participate in several activities.
Quests
Complete various quests to earn special types of currencies and resources:
| | |
| --- | --- |
| Seal of the Rose | Required to obtain prizes from the Queen's Throne |
| Tauveron Ring | |
| Gold Card | |
| Ordan Emblem | Emblems used for summons in the Ordan Portal |
| Ordan Token | |
| Crystal Dagger | |
| Xaros Medal | |
Queen's Throne
Collect as many Seals of the Rose as possible and bring them to the Queen's Throne to receive valuable rewards and a new Hero — Red Queen.
Red Queen is one of the most powerful Fire Priests. Her Special Skill can heal allies, increase their Special Skills' damage, and remove all negative effects currently applied.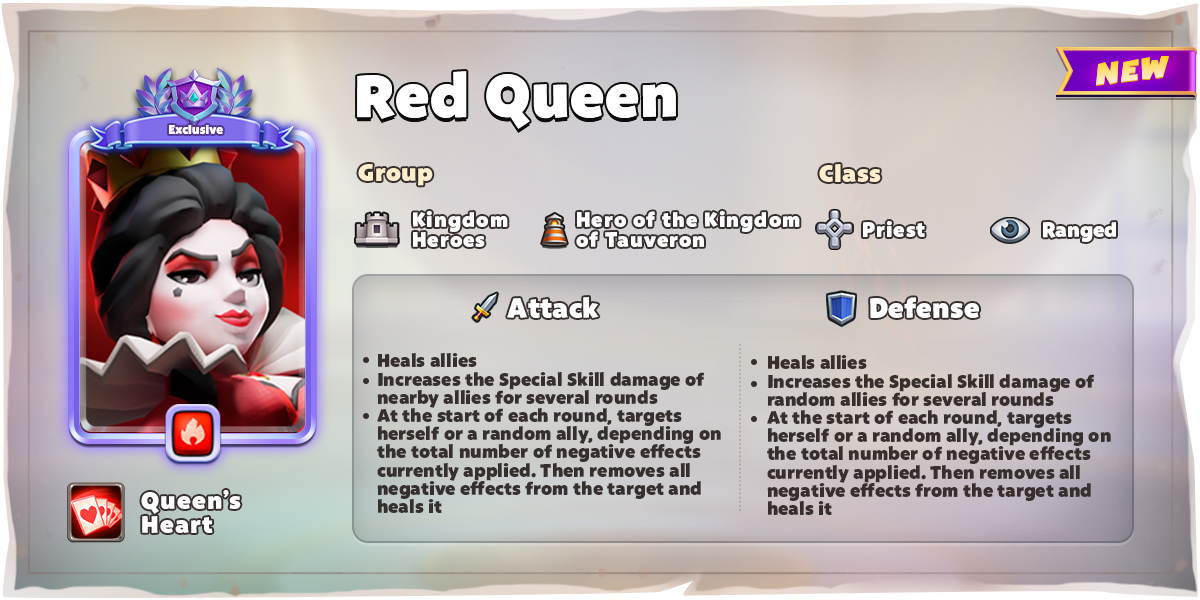 During the event, you can also acquire unique equipment for Red Queen:
The artifact — Crown

Increases the amount of replenished Health

Deals damage to enemies attempting to apply a negative effect

At the start of each round, a passive skill removes all buffs from the enemy with the most currently applied

The talisman — Royal Choker

There is a chance that healing and negative effect removal will trigger twice

Equipment

Increases the amount of passively replenished Health

Increases the amount of passively replenished Health for each negative effect removed
Ordan Summon
The Ordan Portal will become available in the second part of the event.
Complete portal quests to obtain Ordan Emblems. Use these emblems for a special summon to acquire Xaros himself, as well as Xaros shop currency.
Xaros is a Nature Mage. His Punishing Whip deals significant damage to enemies, lowers their defense, and can use the souls of fallen Heroes (both enemy and allied) to further increase inflicted damage.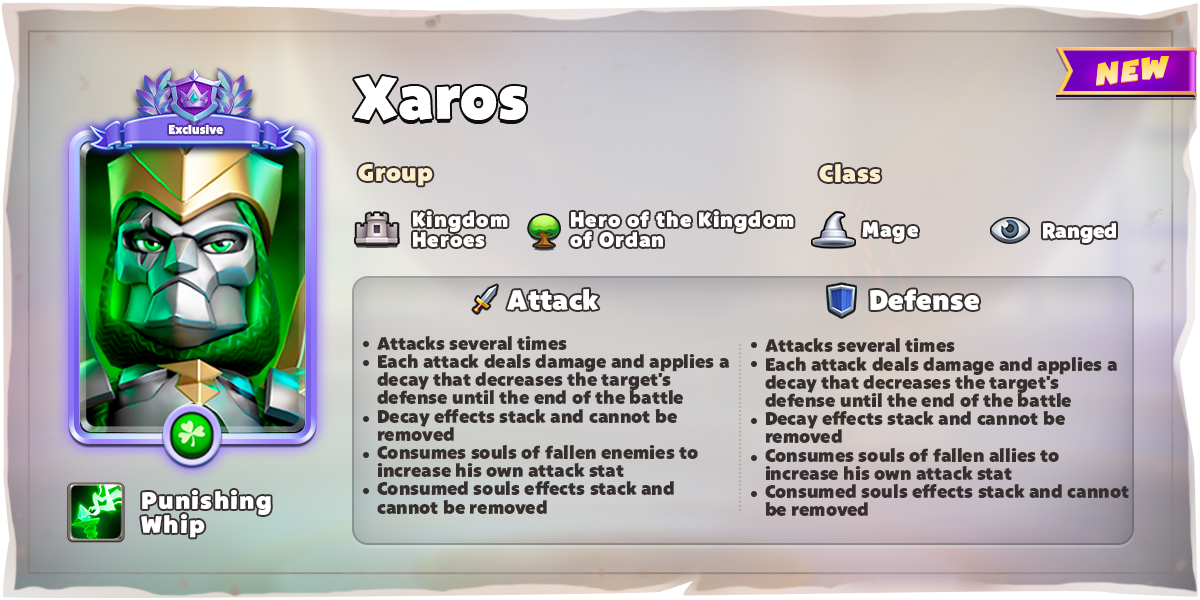 During the event, you can also acquire unique equipment for Xaros:
The artifact — Bane Mask

Provides an extra damage increase for consuming souls of the fallen Heroes

Increases the maximum number of decay stacks

Special Skill deals extra attacks

The talisman — Chain of Obedience

Each Special Skill attack has a chance to stun the enemy for several rounds

Equipment

Further increases the decay defense decrease effects
Path of Glory
After recruiting new Heroes you can complete very special Path of Glory quests to earn artifacts and equipment for these Heroes.